Some classic Lily Allen lyrics for you all there, I was listening to her first album the other day and it made me so happy because it reminds me of Summer! Also, thank you for all your lovely comments on my last post, I'm still getting used to the colour but it's definitely growing on me. Although today I wore that rusty orange polka dot Peter Pan collar
Topshop
top that everybody has (
woah
, mouthful!) and it wasn't until I got to uni that I realised how utterly ridiculous I looked. It looks like I'm going to have to relearn to dress as a ginger!
As promised here are the No7 nail polishes I picked up last week for £2 each. They're usually £7 each but I've got those £5 vouchers from Boots coming out of my arse, they're EVERYWHERE. I don't understand where they keep coming from because I swear I don't spend that much in Boots, but apparently I do. Anyway, I bought Iced Mocha and Poolside Blue, they're both from the Speed Dry range: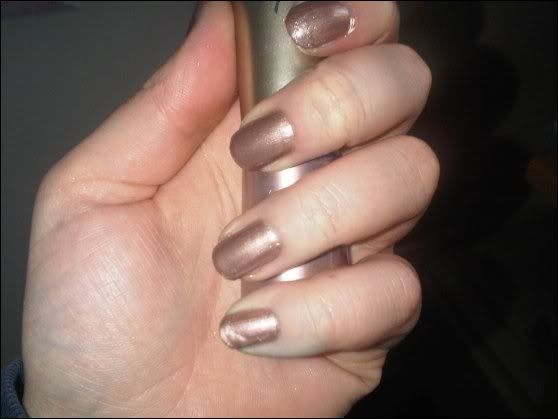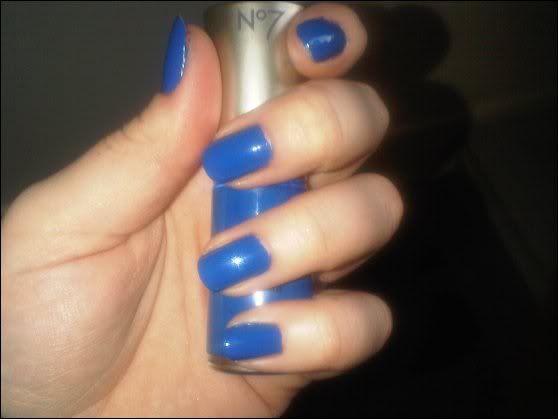 I love them both so much, especially Poolside Blue, but I genuinely believe my bottle is cursed. It doesn't dry fast, whenever I try and put it on I get knocked, or it smudges, or it goes EVERYWHERE and just never ends up applying very well at all. I'm really put off attempting to even put it on anymore, I've tried probably about five or six times and not once have I been able to wear it out of the house yet. The first time I applied it and tried to take it off, my hands looked like this: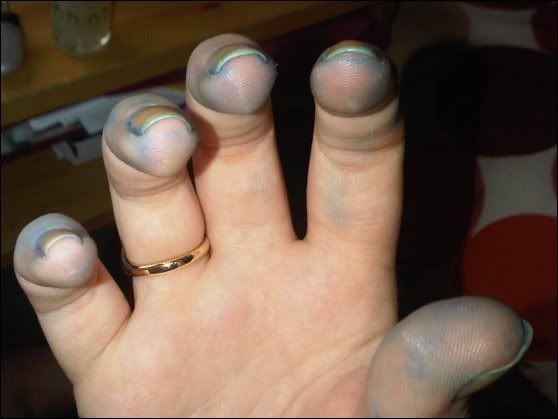 IT WAS HIDEOUS. I have since learnt that the
glitter polish removing trick works a treat
but still! It was a complete nightmare. Maybe I'll give it a break for a while before I try and wear it again!
On a slightly more positive note, I am having a very public love affair with this
badboy
: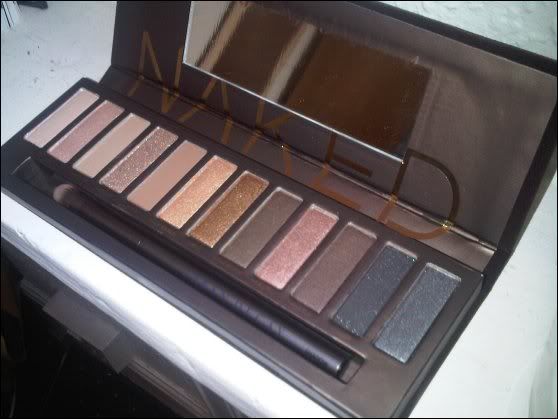 I love it, definitely the best money I've spent in a while. I'm not going to bother having a
separate
post for it though because it has been done a million times over. That said, I'm not so sure I love the Primer Potion that comes with it, maybe I've just become too accustomed to using Benefit's FY...Eye! but because that has been discontinued I should perhaps hunt for a replacement...