Hello! This is another scheduled post, if all goes to plan I will be getting ready for the wedding as this is being posted - it starts at half past 1 - but knowing me I'll probably still be in bed or sat faffing around on
Tumblr
! Fingers crossed that BBC weather and the Met Office have got their forecast for heavy rain allll wrong and there is in fact glorious sunshine...
Anyway, whilst I was shopping the other day (Wednesday), I bought myself some MAC foundation, just the Studio Fix stuff that I had before along with a powder that I've not tried, it's Studio Careblend and is, according to the MUA, luxurious! Debenhams were having on of their 10% off cosmetics and fragrance day so really, it would have been rude not to take advantage! So, lets see how I get on with those after my weird issues with Doublewear. I didn't really like the other MAC powder I had last year so hopefully there will be a noticeable difference. Has anyone used Studio Careblend? Do you like it?
I also bought five new nail varnishes, I got two from No7 at Boots because I had those £5 vouchers so they worked out at £2 each, such a bargain! I love those vouchers so much. I also bought three 17 Lasting Finish ones from Boots because they were on 3 for 2. They're from the new range of colours that have just been released, or so I'm told anyway! I was tempted to get some more Models Own but I felt a bit guilty spending another tenner on top of everything I'd already spent so these were a bit cheaper - £2.99 each instead of the £5 it is for Models Own. Plus, it's probably a good idea for me to start trying other brands because what's a girl to do when she has all the colours Models Own do? (For the record, I don't have them all just yet!)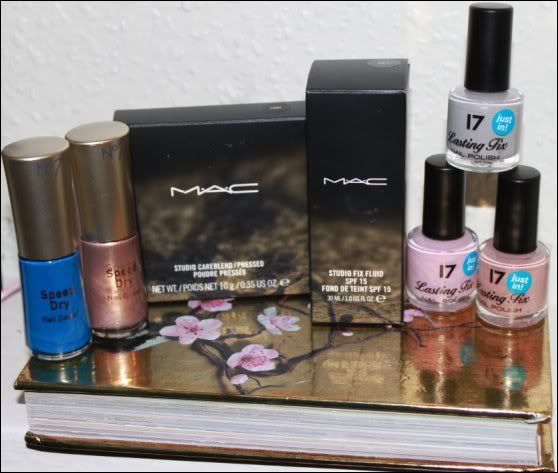 N07 in Poolside Blue & Iced Mocha and 17 in Sweet Kisses, Forever and the one at the top is Chaperone

Expect to see photographic evidence proving the three 17 ones aren't actually the same shade! Hopefully I'll get a chance to do a post on Sunday or to schedule one beforehand - there's no stopping me now, ha!