Fingers crossed this works because it is my first attempt at a scheduled post! It's all quite exciting, isn't it!
Yesterday (today?) I went shopping and decided to treat myself for finishing one of the major projects I've had to do, and when I say finished, I mean that it's
almost
done - all I have to do is write a report to go with it, I've done the bit that is worth 80% of the mark! So yeah, I went shopping. Not for anything in particular but I ended up spending quite a bit, always the same though isn't it!
I went in Peacocks and that's always going to end badly when I've been so impressed with their stuff lately. I tried on quite a bit but I reasoned with myself and just bought one dress, I almost bought a black cardigan too but decided to look elsewhere for a cheaper one and found this nice cosy one from Primark for £8. It was definitely a good find, it was on it's own on a random rail as I was walking out of the shop - it was meant to be! I love it, well, until it goes all bobbly (me, cynical?! Never!). It also appears that I don't have the ability to be able to look anywhere but at the floor and slightly to one side in photos, oh dear.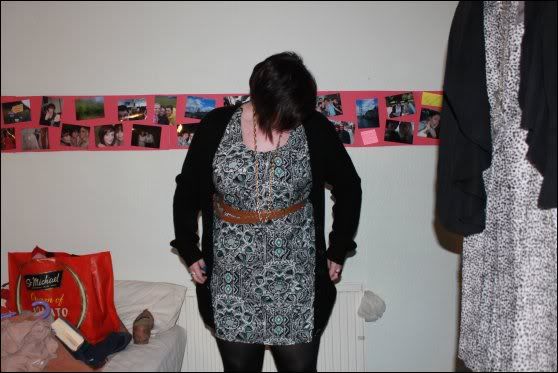 Dress - Peacocks
Cardigan - Primark

I really like the mixture of colours, the brown belt came with it and I enjoy it a lot! It means I can wear with my brown boots without them looking odd and out of place.
I would also like to ask Peacocks to stop producing such lovely stuff because me and Halifax are going to have even more of a love/hate relationship if this carries on!
And, because I like my hair in this picture I thought I'd share it with you: