Since reading
Emma's

decluttering

blog post
, I've been thinking about potentially sorting my life out when it comes to make up and nail varnish storage. I have such a ridiculous amount of nail varnish and it's currently overflowing in the bag it's in, which means I can't pick it up or put it down without something falling out of it, let alone actually being able to rummage through and find the colour I want. And as for my make up well, apart from the masses of stuff that I don't actually use, I have an old floral bag that has various foundation and mascara stains on it that I use for the stuff I use daily. To be honest, I just need some sort of storage method that will keep everything I need looking nice, easy to access and easy to either pack and unpackwhen I go away,
orrr
is just generally easy to transport.
Currently my draw and dressing table look like this: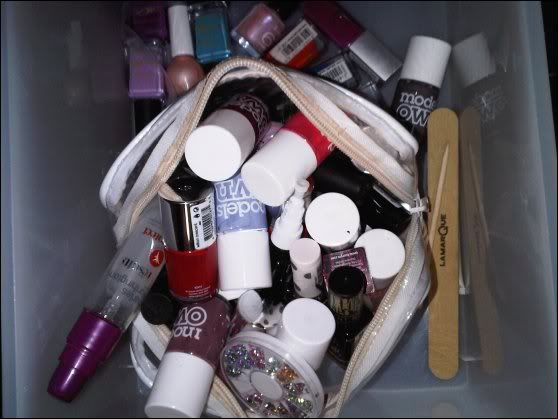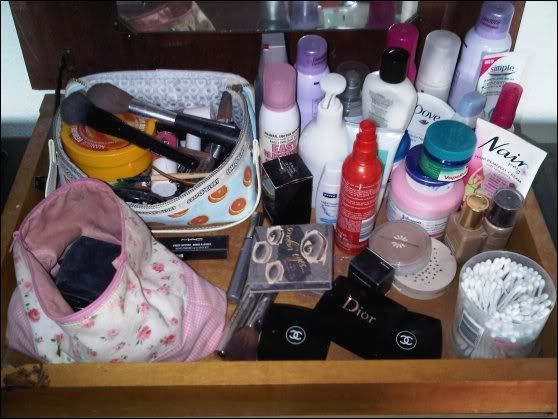 I mean, I know the latter doesn't look
too
bad, but I'm sure you'll all agree that I could do with something to make everything look neat and tidy, right? What do you all use to store cosmetics? Tell me, share your dressing tables with me! Obviously it's a little bit harder because I'm at uni so anything I do get will need to be brought home with me when I move back (or when I move into a dingy little room with mould growing on the walls in a shitty house-share in central London.... wishful thinking...) but for now, show me the endless possibilities that are available to me.
Just a heads up too - I seem to have gone off on an almighty tangent recently from the beauty posts that I once did. I have a few posts up my sleeve, I miss doing them, especially since this is what my blog is, or was, primarily about. I have an eyeliner and a mascara review coming soon as well as a show and tell of even more Models Own nail polish/nail art pen that I bought last night. Aside from that, is there any posts you want me to do more/less of? Anything you like or dislike about it? Tell me what you honestly think about
grazedknees
.com :)