When I say I've spent all weekend painting my nails, I'm not
exaggerating
. I've been here on my own all weekend so yesterday was spent in front of television with my box of nail varnish. I decided I wanted to have a go at doing a traditional French Manicure, and since I bought some tip guides last week, I went ahead but it actually took me the best part of FIVE HOURS.
Admittedly
, I was reading Harry Potter and the Order of the Phoenix (why does the film miss so much out?!)
inbetween
coats of nail varnish, but the pink colour I used was so thin it needed loads of layers which meant it wasn't dry when I thought it was, thus resulting in it being ruined when I peeled the tip guides off. ANNOYING TO SAY THE LEAST. I finally finished it, and it looked like this: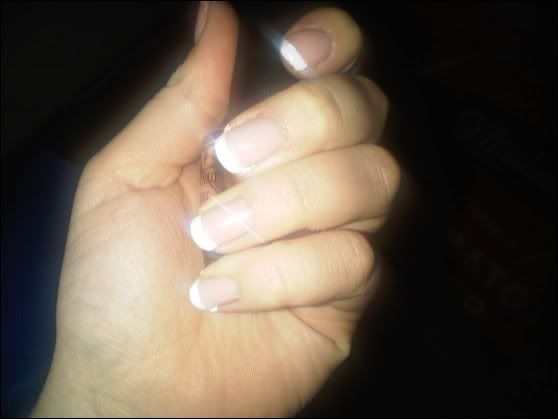 Not too bad, the white was done with my
Models Own
nail art pen because I don't have an actual French Manicure set thing. After it was done, I then proceeded to do the washing up (
avec
Marigold gloves) and THEY WERE RUINED. As if my Saturday hadn't already been wasted enough! Ha. Typical, but
nevermind
.
Anyway, so because I can't handle my nails not having anything on them, I decided to have a go at doing leopard tips. They turned out quite well actually: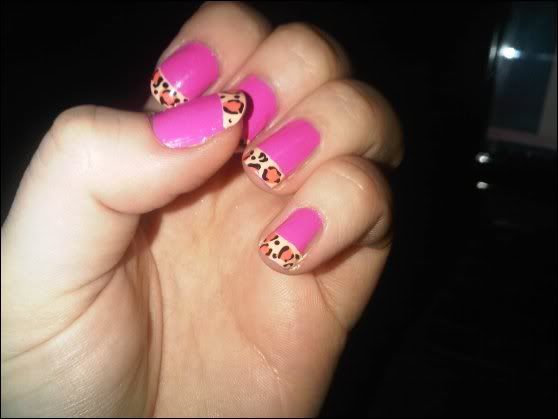 I used Models Own polishes (for a change...) in
Pink Pastel
,
Peach Puff
and
Fuzzy Peach
, and obviously my black nail art pen. I like the combo!
Then this evening I have done my nails AGAIN, this time with inspiration from
Sarah's
latest post, except I don't have pure black nail varnish (must invest) so instead I went for a nautical theme and used Models Own
In The Navy
and
Nails Inc
Wilton Crescent
: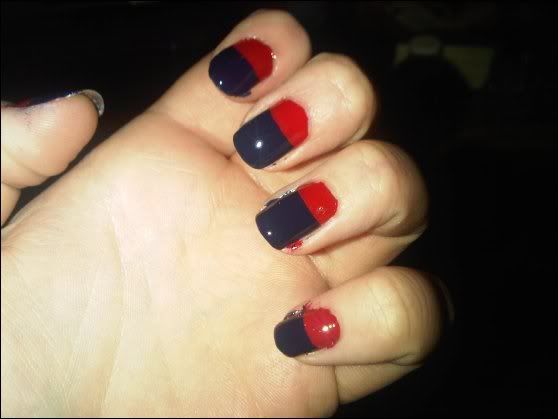 I don't think I'm very keen, obviously they need tidying up though! I was going to add anchors but er, I can't draw very well so they'll just have to do for now.
Here are also two more leopard print nails I've sported in the week: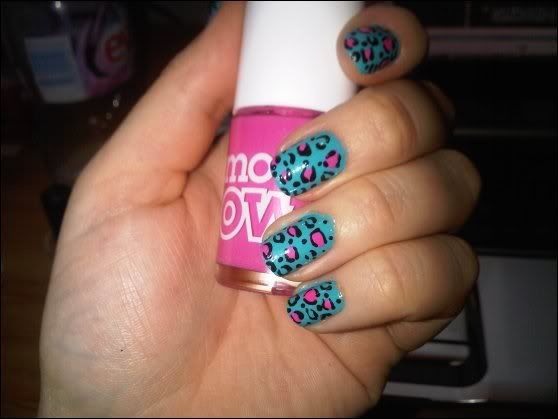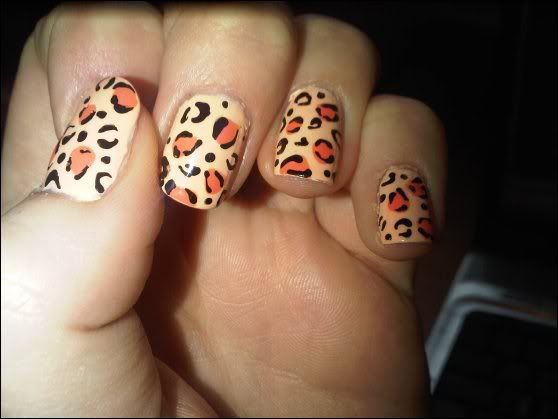 Models Own in
Top

Turquoise
with
Pastel Pink
spots and
Peach Puff
with
Fuzzy Peach
spots. I think the latter is my favourite, the colours work well together! I also sported the infamous
watermelon nails
for a couple of days too!
I'm thinking of making these various painted nails posts a Sunday tradition because I always seem to have a few pictures built up and it'll give me an excuse to try and do different designs, thoughts?