Today was the day that I inevitably got bored of my
ginger hair
(yes, I'm aware it was only about three weeks ago that I dyed it...) so while I was in town I picked up some dye. I also spent the day listening to Foo Fighters and Kate Nash and it has reminded me of being 17.
Anyway, I've been toying with the idea of colouring my hair again for the past week or so because, as much as I loved it ginger, my hair was so much drier and it was getting noticeable on the ends, which has probably happened as a result of all the bleach that was used to get it ginger in the first place. You win some, you lose some! It was fun while it lasted though and at least I know I can go back that colour if I wanted to.
So yeah, I wasn't sure what colour I wanted to go. I was thinking about just being boring and going light brown and then I wanted to go back bright red but I wasn't sure what the colour would end up looking like on top of the ginger - knowing my luck it would have gone pink. I was browsing the colours in Boots and came across a Clairol foam dye in 'auburn' and I was instantly sold. A mix of ginger and red, definitely the perfect colour! If I'd have spotted this colour before I'd have probably used it in the first place. I also bought a XXL colour in chocolate brown so if it did go wrong I had a back-up plan (or I can use it in a few weeks when I'll get bored again!).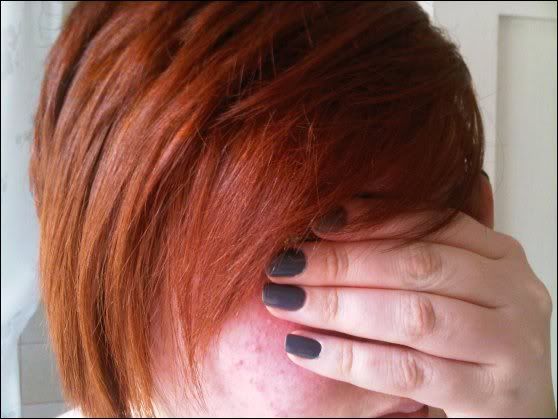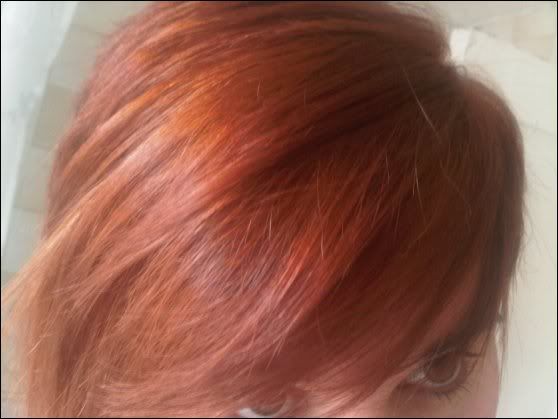 To be fair, these aren't very good pictures. It's more orangy in real life, or I think so anyway! I don't know how to describe it but yeah, I do quite like it and it already feels a lot healthier than it did this morning!

Let's see how long I last with this colour...