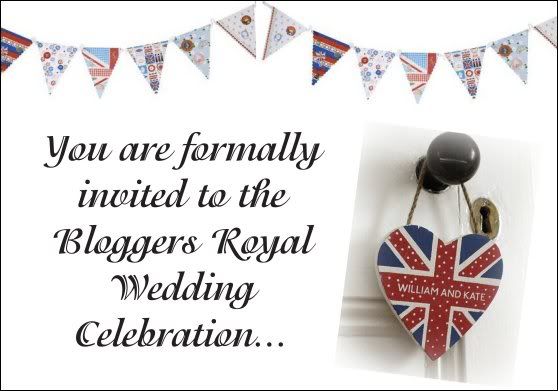 If you read
yesterday's post
then you'll know I was late to come down with Royal Wedding fever, but it has definitely hit hard and when the beyond lovely
Sarah
emailed me last week and asked if I'd be up for putting together an outfit in order to attend the wedding as her plus-1, after a few minutes of being shell shocked and under the impression that she had, for real, received an invite to the wedding, I was quick to accept.
The idea is that myself,
Sarah
(City Girl's Fashion Box),
Sarah
(My Sentimental Heart),
Michelle
(Daisybutter),
Lucy
(Miss Lucy Loves...),
Hannah
(Bow Dream Nation),
Emma
(Oh Really?),
Hannah
(Away With The Fairies) and
Gem
(From Gem, With Love) were to put together two outfits that we'd wear to the wedding - one designer and one high street. How exciting! I've had SO MUCH FUN traipsing Net-a-Porter and various other designer websites trying to find the perfect outfit. If money were no object, heels were no issue and every single gorgeous dress in the world suited me, then this is what I would (probably) wear. Please bare in mind that I've never been very good at dressing myself for weddings! Everyone knows how the issues that ensued for the last wedding I attended back in March!
DESIGNER
: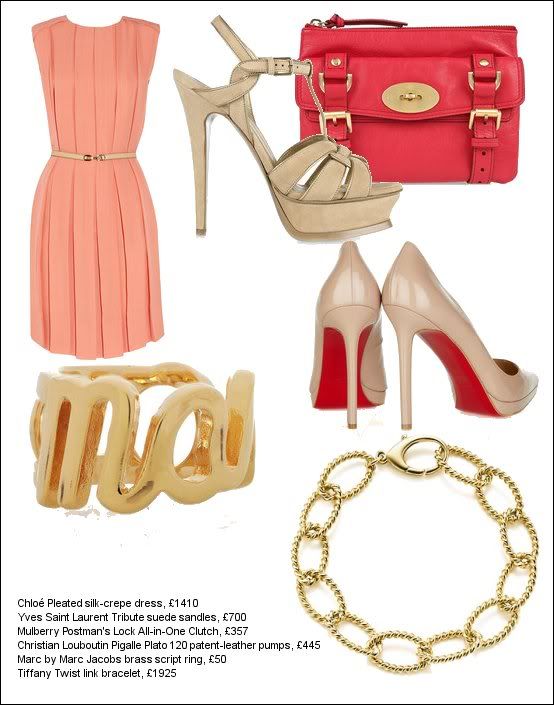 1
/
2
/
3
/
4
/
5
/
6
Picking this was so much harder than first anticipated! I narrowed down my choice of dress to this one quite easily, I had various tabs open with ones that took my eye but as soon as I saw this one, I loved it. The colour is so nice and summery but not too much and still quite classy and understated. It wasn't until I went snooping for shoes, bags and accessories that I realised I'd probably screwed myself over; black would be too heavy and white would look stupid. Obviously, classic nude Louboutins would be PERFECT if the colour of the belt was the same shade. I still included them, but should the worse scenario occur, these YSL shoes could potentially save the day. Picking a bag was definitely the hardest though, again, neither black or white would look right and finding a bag the right shade of beige/nude and that looked right seemingly proved to be an impossible task. Instead, I went for this bright Mulberry clutch, the colour clashes but I feel like it compliments well somehow. I think the jewellery speaks for itself too, a necklace would be totally unnecessary so instead I opted for a simple Tiffany bracelet and this Marc Jacobs ring that makes a little bit more of a statement without being too much.
HIGHSTREET: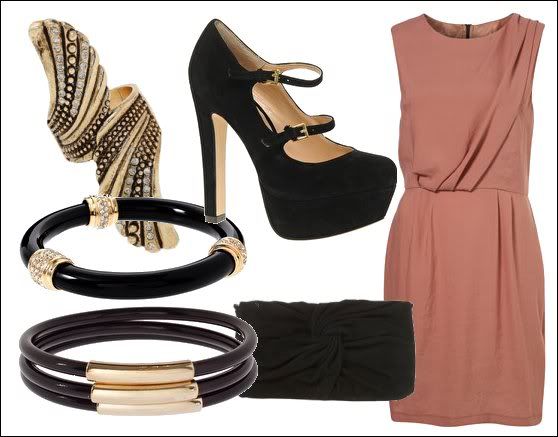 Surprisingly, I found this outfit more difficult to put together than the designer one. The amount of dresses that I deem suitable for weddings is poor, maybe that's why I struggled so much earlier in the year? Anyway, I chose a similar dress to the one above - I absolutely love this dusky pink colour that's around at the moment, it's so nice. It took me a while to try and decide what colour to pair with it, I thought about grey just for a bit of a twist but settled on classic black in the end. I decided that the dusky pink colour of the dress could deal with a bold black to compliment it and I think it looks alright! Again, I wouldn't wear a necklace and instead would accessorise with chunky bangles and just the one statement ring. I chose the Topshop suede bag and then found these absolutely STUNNING shoes on ASOS, and obviously suede bag means suede shoes! I think the gold buckle detail brings everything together too.
I mean, obviously I'm no stylist but, here we have my two potential Royal Wedding outfits. Now, I just need to find a man and his credit card...