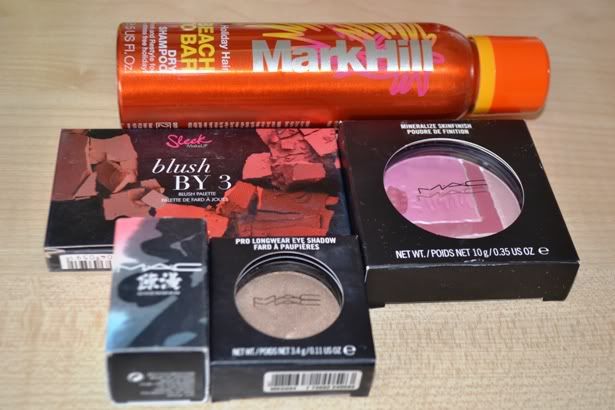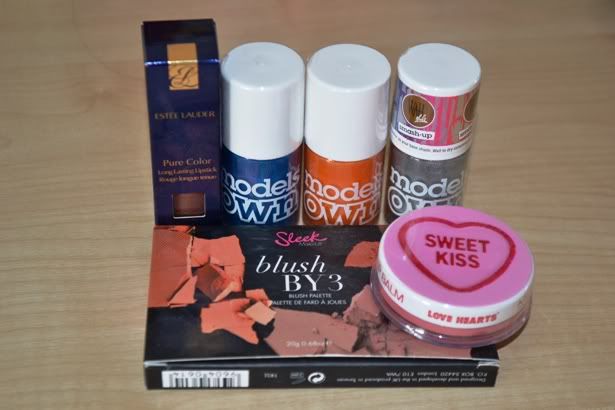 Picture one:
Mark Hill Beach to Bar dry shampoo | Sleek MakeUp blush by 3 palette in Flame | MAC mineralize skin finish in Sunday Afternoon | MAC Chenman Reflects Glitter pigment | MAC Pro Longwear Eyeshadow in Sweet Satisfaction
Picture two: Estee Lauder Pure Color shimmer lipstick in Tiger Eye | 3 x Models Own nail varnish (Dream Stream, Zest a Peal & Smash Up silver) | Sleek MakeUp blush by 3 palette in Lace | MUA Love Hearts Sweet Kiss lip balm
I've been on about posting this for a while now but I just haven't got around to it. There isn't really a reason for it as such, just the same old story: make-up that's kicking around my bedroom/bathroom that hasn't been used and probably won't ever be so instead of it gathering dust I thought I'd share the love. This is either what I've bought or what I've been given through various stints at Cosmopolitan, none of it has been provided (or bought!) for the purposes of an actual giveaway. I guess I'm just kind.
SO, there's going to be two winners. The first person chosen will pick which "prize" they want and the second will get whichever is left. Sound fair? Good.
The rules:
1) You must be a follower through Google Friend Connect.
2) It's only open to people in the United Kingdom - sorry guys!
3) Leave a comment below with your name and email address so if you win I can get in touch. You can say something nice too if you like.
4) Feel free to tweet about the giveaway, it's not necessary but you can if you want. You won't get any extra entries or anything though, soz.
5) It'll close two weeks from today (22nd March) at midnight on 5th April 2012. I'll pick the winner using random.org and announce who it is shortly afterwards. There's no telling when I'll post the prize though, I'm useless.
6) Good luck :)