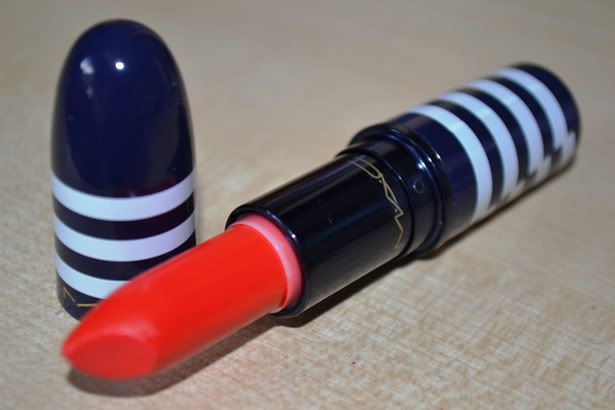 Hey, Sailor!
is one of my favourite collections that MAC have released in a looong time and that's mostly down to the packaging - I definitely think they should customise all their limited edition make-up packaging to match the theme of the collections, how much more fun would that be? I'd probably be persuaded to buy more too.
This is Sail La Vie* and I might have forgotten for just a little while that I actually owned it (a sign that I have too much make-up? Who knows). It's a gorgeous coral/orange that looks brighter in the packaging than it does on my lips, but I love it all the same and I especially love the way it looks with my hair colour! It's apparently a satin finish but I'll be honest, I can't usually tell the difference between the different MAC finishes - am I alone on that one? It's really creamy and lovely to apply, and that's coming from a novice like me. It's one of the only brighter colours that I have that I find relatively easy to put on, I usually have to use a lip brush to get it looking good enough to actually go out in public. It's a really wearable colour and goes with almost everything, and I think it'd suit most skin tones too. Definitely recommend!
What are your fave MAC collections and products from them?