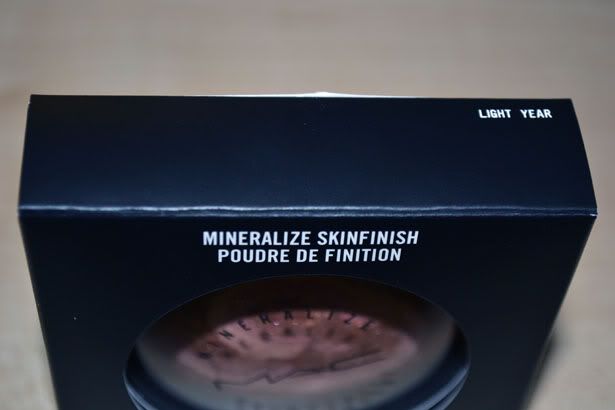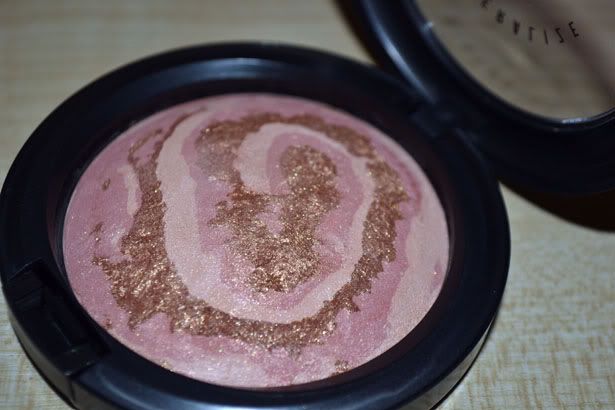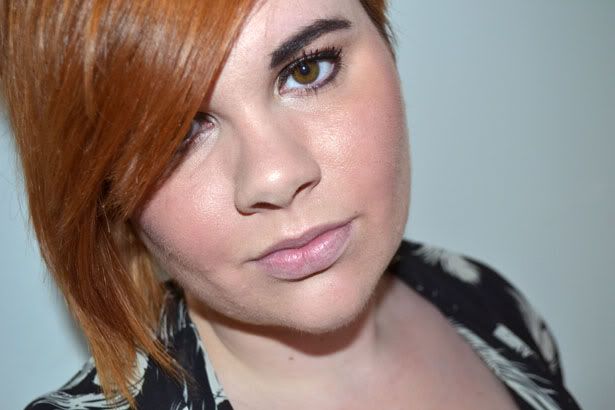 I'm not one for buying from MAC collections really. I don't see the point in the constant releases and the fact that there is near enough a new collection every month kind of takes the fun out of it! Plus, the products don't usually appeal to me, I like to stick with what I know and I'm also a bit scared that I'll become hooked on a limited edition product that I'll never be able to get it again once it runs out. Sigh.
But - we all knew there was a big but coming - as soon as I saw the newest collection, Heavenly Creatures, I loved everything and wanted to buy it all, which sadly would have more than bankrupted me. I settled on just one thing (well, I may also have bought a bottle of Fix+ but that was so I qualified for free delivery, so in effect I er, saved money); this MSF in Light Year. It cost me £21.50, I
do
need a new highlighter (promise) and after looking online at swatches and reviews, I settled with this one that's described as a 'peachy pink with a gold shimmer'. I mostly went for it because I contour most days with a brown blush and prefer a subtle pinky/gold shimmer to pair with it.
I tried to take a picture of me wearing it today but I couldn't get a good one, and now I look like absolute rubbish so you'll have to make do without one. Sorry about that! It's really lovely to apply though, it gives a good colour pay off so I feel like this palette will last me a while. It's a lot more glittery than I thought (and hoped) it would be, so I'll have to stick to wearing it with my D&G matte blush (Mocha is the one I use) rather than my current MAC one (Love Joy if anybody cares) but that's okay; at least I can swap and and change depending on my mood! I also just had a look in the mirror and, about ten hours after the initial application, I can still see traces of glitter on my face - and that's survived shopping, PERSPIRING (not sweating, I'm a lady) and crying. I bet if I used it on a 'proper' make-up day and used a setting spray it'd last for even longer. Impressive.
Has anybody else bought anything from the Heavenly Creatures collection? There's some proper nice looking lipsticks and the blushes are really nice colours too.
Also, on a different note: I 'launched' my GET LUCY A JOB campaign (lol) today. I made a new blog/website/thing that you can
see here
. I've posted the link on Twitter and got loooads of retweets already (thank you so much) but Saturday probably isn't the best day to post this sort of thing, so I'll be tweeting about it again on Monday, but if anybody has any contacts then it'd be great if you could spread the word!