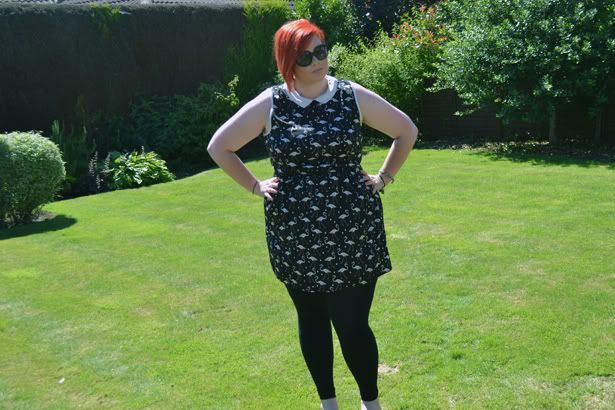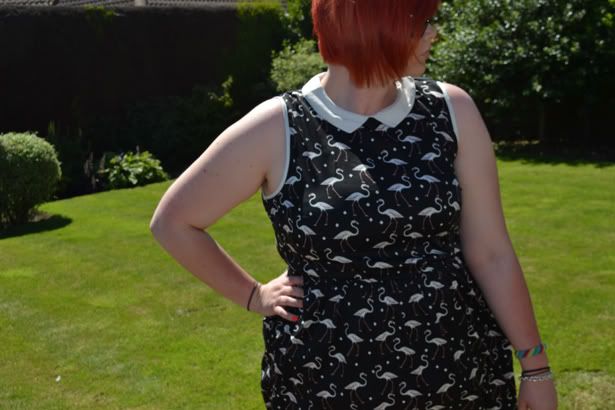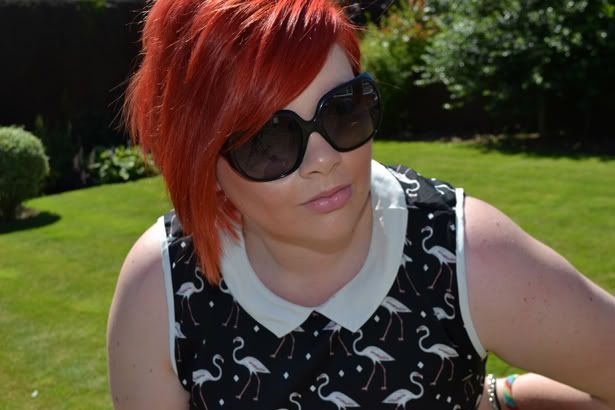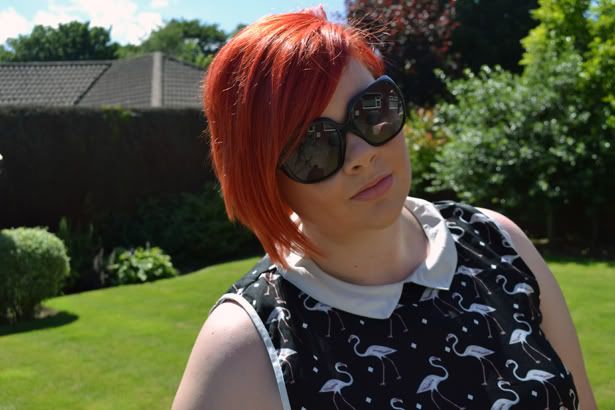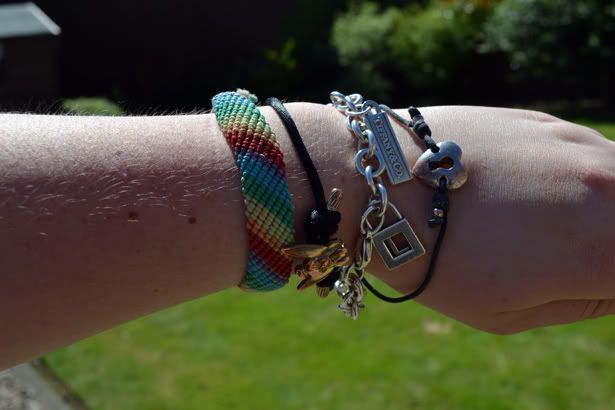 Topshop Tall leggings £12
River Island mens rainbow cord bracelet £gift
Disney Couture Tinkerbell bracelet £20
Tiffany charm bracelet £gift
Mulberry heart friendship bracelet £55*
Look at me go, a half decent attempt at an outfit post, I even ventured into the garden to take these pictures! I can't believe how warm it is in contrast to the past few weeks - this is how summer should be ALL THE TIME. I promise not to complain about the sun though because it probably won't be around for much longer.
So, this flamingo dress that I picked up a few weeks ago has had so many compliments and I've only worn it twice I think! I loved the pattern and the fact it had a Peter Pan collar only made me love it more - in the words of Britney, it's just so typically me. On days where it's not so warm, I pair it with an old faithful H&M cream cardigan and I'm good to go. Primark actually seem to have a fair amount of decent stuff in at the minute, it's more hit than miss whenever I seem to go in these days, and for Primark prices, you can't really go wrong even if it doesn't last more than a few washes!
Whenever I'm not at work I always wear the same jewellery too, I never really bother to buy 'fashion bracelets' (not sure if that's the best way to describe them?) because I prefer to to wear things on my wrist that mean something to me. Don't ask me why! On my other wrist I wear a purple leather Pandora bracelet and a silver charm bracelet, also by Pandora, but that's had to be sent off for repair.
I don't think I have anything else of any importance to update you all on, same old stuff happenin' in my life and nothing too exciting to report! My
giveaway
is still open for another week or so, so go and enter that if you haven't already. Has anybody got any requests for posts, or anything you like and want me to do more of? I do usually just blog about whatever I fancy on a particular day, I don't plan ahead or write down post ideas or whatever, but maybe I should? I don't know!