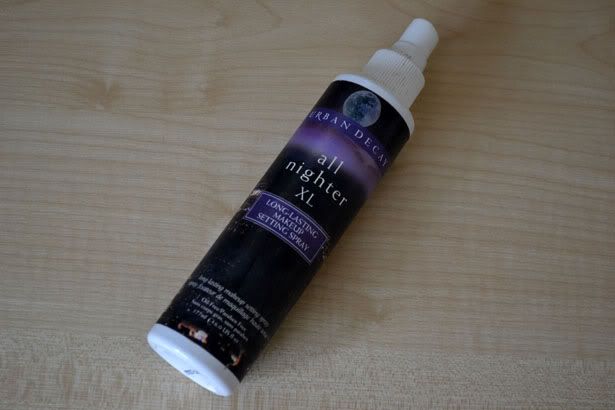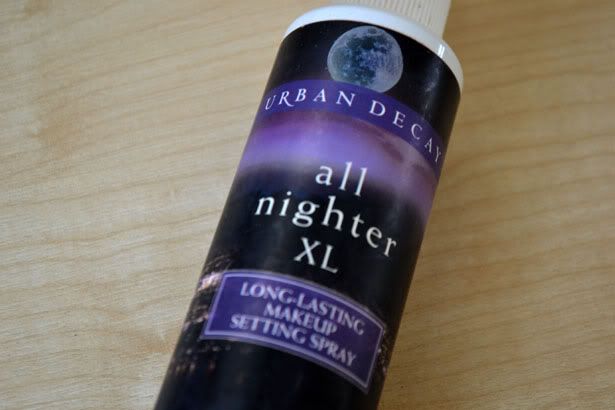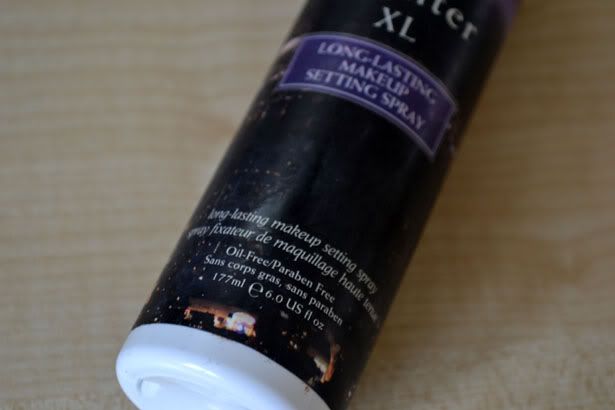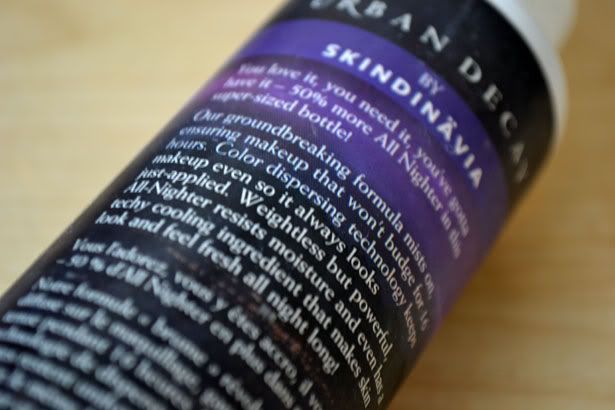 I was so tempted to call this post All Night Long but I decided against it at the last minute and I'm already slightly regretting that decision, but anyway. Make-up setting sprays are a relatively new thing to me, I mean, just the thought of 'setting' my make-up didn't even enter my head until I read somewhere that using hairspray before a night out keeps your face in place. What an amazing discovery that was. My life was further improved when I discovered you could buy actual products that have that one sole use. Admittedly, I did think that these sprays would be a complete waste of money, I mean, who wants to spend £19+ on one product when hairspray does pretty much the same job AND MORE, for a fraction of the price?
Had I had not been gifted Urban Decay's All Nighter XL spray last year after doing some work experience, I probably wouldn't have ever branched out, but now I can't live without the stuff. I used to just save it for nights out - long gone are those pesky trips to the loo just to check my face - but now I use it everyday, a few spritz before I leave the house and I'm good to go. It is completely weightless once on and it takes a few minutes to dry. Once it is dry then I wouldn't even know I'm wearing it and it doesn't have anything but a positive effect.
There was a time when I used to really suffer with my make-up lasting, and you know, I hate having to 'top up' throughout the day. I do carry a Chanel compact around with me but I try not to use it, I like to just have it there. My nose was always the worst, even if the rest of my face looked alright I'd always have a hideous red nose that stuck out like Rudolf's, and that's definitely not a good look. Now though, I have no issue whatsoever. I sometimes find I have to conceal around my mouth after I've eaten, but I can just about deal with that.
Honestly, I cannot sing the praises of this Urban Decay delight enough. There have been days where I've been at work longer than I'd like (we're talking 14+ hours), but my make-up is still pretty much intact by the time I get home. Sometimes I do find that I look a bit shiny, but that's usually when the weather is horrible and muggy so there's not much that can be done, but then other days I have that 'just applied' glow all day. I can't recommend it enough and reckon it would be a pretty good investment, even if you're not 100% sure what to do. You only need to use about three or four sprays so the bottle will last ages; I'm about a third of the way through mine and I've had it about nine months or so already.
There are other types of sprays for different skin types; my sister has Urban Decay De-Slick oil control that she absolutely loves. She's a nurse who regularly does 14 hour days, she says that this helps keep her face in place an absolute treat when she's at work or on nights out, and only occasionally will she have to reapply small amounts of concealer to blemishes. There's also a moisturising spray for dry skin called Dew Me that I imagine will live up to the claim of keeping make-up in place for 16 hours.
I know there are other brands who do setting sprays too, Diego Dalla Palma do one, and MAC have Fix+, which I know isn't strictly for this purpose but I've just bought a bottle anyway with the intention of seeing how it compares to Urban Decay.
What are your thoughts? Would you now consider, or have you already splashed the cash?