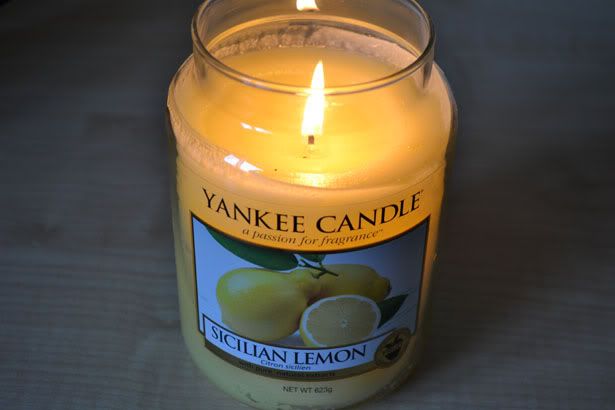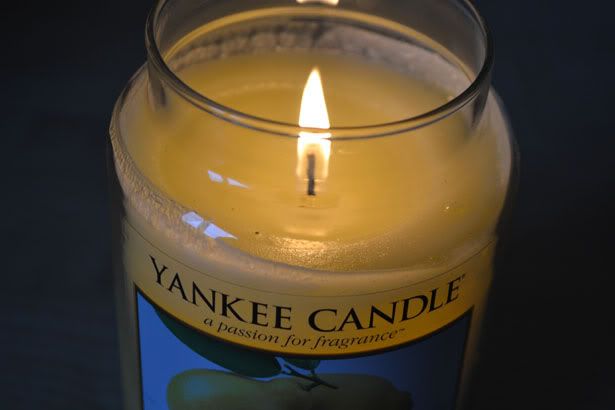 Yankee Candle are notorious for their vast range of amazing scented candles, from French Vanilla to more imaginative fragrances like Fluffy Towels, Fruit Salsa and First Kiss, to the simply bizarre ones such as Leather (!) and Denim. There's definitely a candle for every occasion and I'm a huge fan, I'll happily spend £20 on a large jar knowing that it'll last a year or more. In the past I've had Vanilla Lime, Strawberry Buttercream, Vanilla Cupcake, Bahama Breeze and we often get the Christmassy ones in December so the house always smells amazing. My seasonal favourite is Christmas Cookie, mmm.
The most recent addition to my collection is Sicilian Lemon. I'd been debating treating myself to a lemon candle for a while, in the jar they smell incredible and I thought it'd be nice to have a fresh, fruity scent that was a bit different to any that I'd had before. I got this for my birthday a few weeks ago, and it really pains me to say this but I am so disappointed. There is no scent to it whatsoever; I've been burning it quite often since I got it, usually for a few hours at a time and instead of it filling the house, there is absolutely no sign that it has even been lit. In the jar it doesn't smell as strong as others I've had, but I didn't expect it not to leave even a slight hint of lemon.
I bought the smallest version in Clintons earlier in the week to burn, just to see if it was just me having a dodgy candle or whether they're all like it and that was exactly the same. Nothing. I'm not really sure what to do about it, I can't really complain, or can I? It doesn't live up to my expectations at all. It seems such a shame and a bit of a waste to have got it as a birthday present, if I'd have known beforehand I would have chosen a different one. Siiiigh.
Has anybody else had the same problem with this candle or any other flavours? My ultimate favourite is Strawberry Buttercream but I'm really keen to try some new ones, mostly Red Velvet and Creamy Caramel.