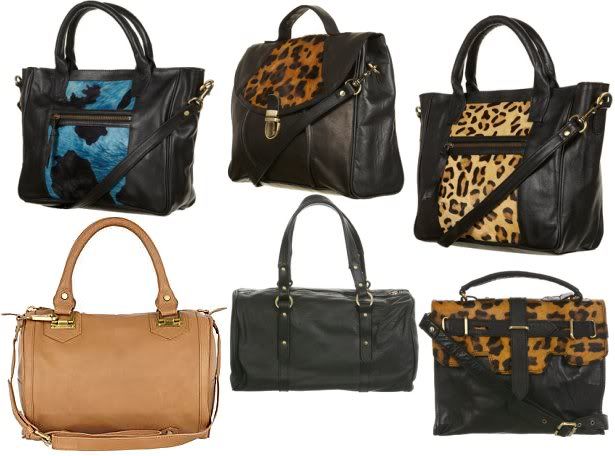 Despite being a massive handbag lover, I don't actually own that many. I think my current collection consists of a battered and bruised black Topshop slouchy type, an orange leather across-the-body Accessorize one that I got for Australia and two of Primark's best £6 creations. Just like every other girl, it is my ultimate dream to own a designer bag(s) (LV, Mulberry and Chanel, but which to get first?) once I'm earning a proper, full-time wage but in the mean time, the highstreet will have to suffice. I'm going to treat myself to a new bag when I'm down in London next week but I can't decide which of the above to get.

I'm quite fussy when it comes to bags; there needs to be enough room to carry all my crap around without being too big so I lose things at the bottom, I don't like any obvious branding (unless it's a Mulberry tree or two interlocked Cs, thus ruling out about 98% of River Island's collection), it will be preferably black leather but exceptions can be made, and there will be a choice of ways to carry it. As you can probably tell, I'm quite enjoying the hint of animal print and I'm swaying towards either number two which is from Topshop or number six, from Miss Selfridge. I've not seen any of them in ~real life though so I'm going to have a hunt and then make an informed decision once I've seen them all! Unless something else takes my eye, obviously.

Tell me about your bags please, unless they're expensive then I don't want to know because I will just be really jealous.

Also, slightly off topic. Who is going to the IMATS? If anybody wants to meet up then just holla, I've not decided if I'm going to go both days or just one, I need to look into it a bit more and work out what's best but I AM EXCITED.