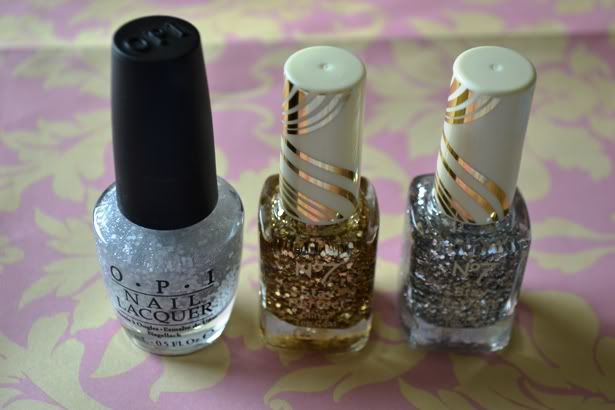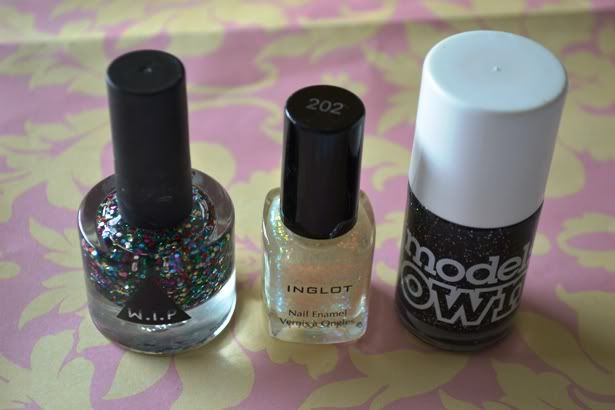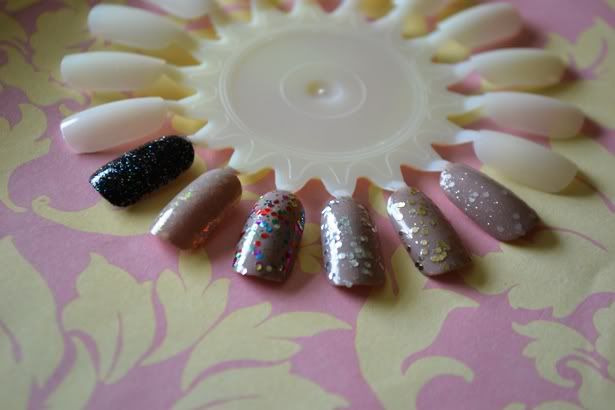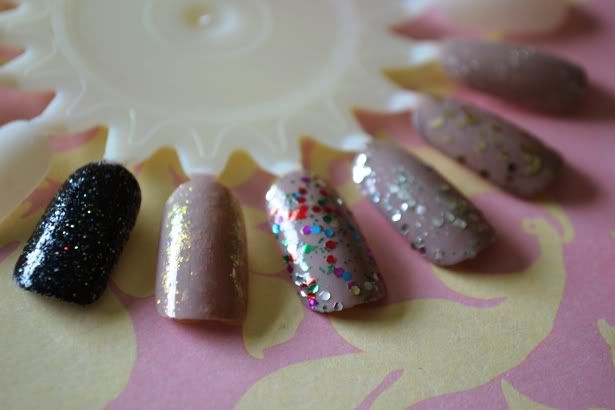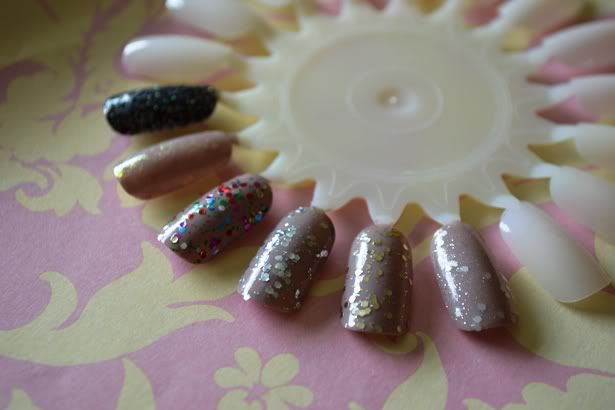 OPI Pirouette My Whistle, No7 Gold Glitter Top Coat, No7 Silver Glitter Top Coat,
W.I.P Electra, Inglot 202, Models Own Mixed Up

Who knew that nail wheels could be so fun? I think they may well be the best thing that I've ever bought off eBay! What's not so fun is trying to cut down NINETY ONE (!!!) pictures of said nail wheels/nail varnish down to five that are suitable for a blog post. But anyway, I thought I'd share my current fave glittery polishes with you. Everyone loves a good glittery nail and I know I'm not alone when I say that I always forget how hideous they are to get off until right after yet another coat has been applied...
I'm really enjoying both subtle glitter hints and block colours - I've found myself turning to both these No7 gold and silver ones recently, I've had them a while but I've only just started to appreciate how nice they actually are. I picked them up at the Boots press day I went to earlier in the year, I think they're in store from June (AS IF IT'S JUNE TOMORROW. THAT MEANS THE BIRTHDAY COUNTDOWN CAN OFFICIALLY BEGIN!) but I'm not sure how much they'll be. What I like best about them is the combination of the small specs of glitter with the bigger, hexagonal shapes. This also means they're a bit easier to apply; the smaller bits cover the entire nail easily and the hexagon pieces sit in between so you don't end up with wangy looking clumps of glitter that are hard to spread. Subtle hints of shine are also nice just for a casual daytime if you don't want anything too ~out there.
The OPI one is from the New York City Ballet collection that was released a few months ago, this one is similar to the No7 silver glitter but it's slightly more... grey. It has less sparkle and to be appears slightly matte in comparison to regular glittery top coats. This works better with softer, more girlie colours for a more profesh approach. The same goes for Inglot in 202 (I wish they had actual names!), to me this looks like a crackle topcoat even though it's not. It's so nice, it's iridescent and is perfect for summer, it's that little bit different and stands out a bit more. Love it!
The final two are Models Own and a multi-coloured glitter I picked up from Urban Outfitters. As with all Models Own glitter polishes, it needs layering up to achieve half decent coverage which means it's an absolute pain in the backside to try and get off again. I really like this black with little specs of colour dotted throughout, it looks really nice and I love wearing it on nights out when the light reflects off the glitter. Annnd, finally the Urban Outfitters one is, I'd say, a dupe of the infamous Rainbow Connection but I love this regardless. In the bottle it looks like it has a black base but it doesn't and I was a bit gutted when I first used it, but now I've grown to really like it! What are your favourite glitter polishes?