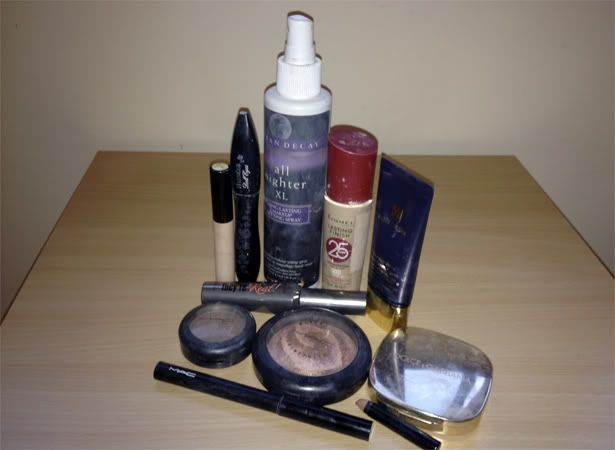 First, can I just apologise for my complete lack of blog posts in the last week. I DO have stuff planned but I'm currently on day 17 of working without a day off and when I get home from all I want to do is slob out and watch rubbish telly. Secondly, another apology. This time for the crapola picture above, I haven't got my camera in London with me so my iPhone will have to do. Waaah.
This post probably seems like a cop out but I've seen a few other bloggers posting these and I am genuinely intrigued by it. Just adding up how much my face is worth seems entirely pointless, but obviously if I turn it into a blog post IT IS NO LONGER POINTLESS. You hearin' me? Yes? Good. Here goes:
Estee Lauder Double Wear Maximum Cover: £27.50
Rimmel Lasting Finish foundation: £6.99
Collection Lasting Perfection concealer: £4.19
Mac Penultimate eyeliner: £16
Bobbi Brown eyebrow pencil: £15
Lancome Hypnose Doll Eyes mascara: £20.50
Benefit They're Real mascara: £18.50
Dolce & Gabanna The Blush in Mocha: £30.50
TOTAL = £200.18
So, on an average day I put on two hundred pounds and eighteen pence worth of make-up. That is MENTAL. It's kind of a good feeling but also it's an equally ridiculous thing to find out. Doing this has also made me realise that I use a lot of high-end make-up, there isn't actually a reason behind that and I definitely wouldn't call myself a make-up snob, I think that's just how my collection has grown over the years. I tend to find that more expensive brands tend to have more colours that suit me too. Now I suggest you all go and add up your beautiful faces and tell me how much yours is worth. GO GO GO!
Also, some news: I have quit my job McDonald's after six years and if all goes to plan, I will be moving down to London in two weeks time and working at Cosmopolitan until Christmas. It's a massive risk I'm taking but I'm so excited and happy that I am finally being able to live my dream. The risk might pay off, it might not, but at least I can say I tried and failed rather than never trying at all. This also proves that you should never, ever give up on your dreams and settle for second best because if you work hard enough, it'll be worth it in the end. You'll see.